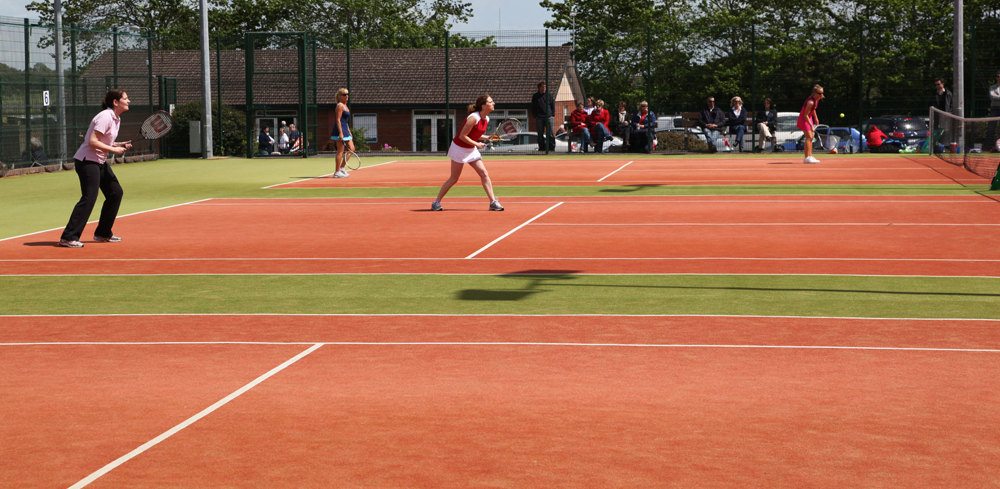 Situated in the heart of Douglas Village, Douglas Tennis Club serves families and individuals of all ages and fitness levels with modern tennis facilities. The club provides a welcoming and enjoyable environment, catering to both the competitive tennis player and those who are new to the game.
The Tennis club in Douglas was founded in 1927 by three civil servants and was situated in the centre of the village on ground leased from O'Mahoney's Garage for 1 shilling per year – if it was requested. It was known as the Civil Service Tennis Club and continued to use that name until the late 1950's when it became known as Douglas Lawn Tennis Club.
There were three courts – two grass and one hard and the pavilion was a corrugated shed which had been obtained from Collins Barracks. In the 1930's and 40's tennis was very popular in the city and the suburbs – there were seven clubs on the Boreenmanna road and in 1936 the Club purchased a fine trophy, the Civil Service Cup for competition among the various clubs and the first winners were Midleton Tennis Club, the trophy is still being contested to this day.
At that time the club had a membership of around 50 children and perhaps ten adults and Bert Wilkins who was treasurer then tells us that the subscription was £1 and the years income £90. Some of the people involved then were Gus Dooley, Tim Desmond, Maura Deegan, Maura Culhane, Gerard Keane, and Berty O'Keeffe who kept the club going when times became more difficult in later years.
There was obviously a good balance of social and competitive tennis as there were many happy marriages (matches) made there and players like Ger Deegan, John Wilkins, Karen Waine, Helen Ronayne and Sean Sorenson were regularly in the final stages of the Irish Junior Open at Fitzwilliam LTC in Dublin and indeed Sean Sorenson went on to play international tennis for Ireland.
With the expansion of Douglas the premises was inadequate and in 1978 the grounds were sold to the late Joe Donovan for £80,000 and the Club moved to Douglas Hall Lawn where six hardcourts and a new pavilion were build in 1982. Flood lighting was added a few years later and in 1992 the present sand based Omni courts were installed.
The membership of the Club has of course increased over the years and is a happy blend of social and competitive tennis for adults and children…
The club currently boasts 
Newly Renovated Clubhouse completed August 2009

6 flood-lit all-weather tennis courts

New Club house with kitchen area

Mens dressing rooms 

Ladies Dressing rooms

Electric showers

Ample Car parking